Beyond Cuckoo took to the road last week to find sanity among the Redwood Forests of Northern California. We camped at Grizzly Creek, a small and mighty nook of a place, along the Van Duzen River in Humboldt County. It's not surprising that we often look to nature to understand where we've been and our potential to become sturdy and strong like the Redwoods.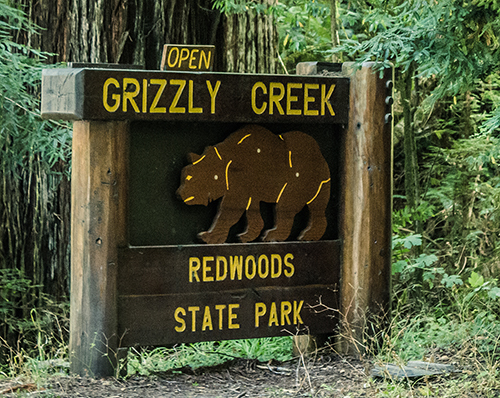 Redwoods have 66 or more chromosomes (six copies of each chromosome) which help the tree fight disease. When attacked the tree has a chance to protect itself. These trees can intercept dense coastal fog and absorb it through their leaves to stay hydrated during dry summers. Which brings us to the issue of climate change. I'm saddened that this term is over-used to the point that it has lost meaning. However, one trip in nature brings the point home.
We were fortunate to arrive at our destination on a day that included a campfire program about owls. Who knew that there was so much controversy surrounding habitats for the Northern Spotted Owl, the Barred Owl and a recently sighted hybrid, the Sparred Owl? I've included links for you to investigate and learn about these complicated issues.
Inspiration comes with getting outside. Grizzly Creek is a traveler's and a local's destination. The day use area is a popular picnic and swimming spot. Well-marked hiking trails allowed me to venture off for a "tree bath" and a few conversations with the nature spirits. At the nearby Owen R, Cheatham Grove where George Lucas filmed the Return of the Jedi, I swear I saw an Ewok or two peering out from under the forest ferns.
Finally, I encourage you to become familiar with the work of the Save The Redwood League. They have been paramount in protecting redwood forests since 1918 and helped to keep Grizzly Creek open during the dismal state budget years.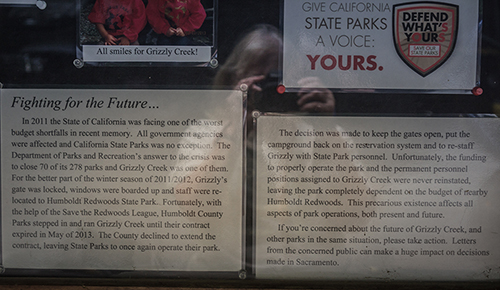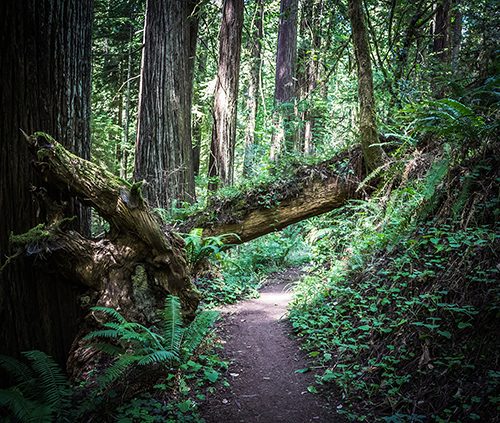 http://www.parks.ca.gov/?page_id=421
https://www.scu.edu/ethics/focus-areas/more/environmental-ethics/resources/ethics-and-the-environment-the-spotted-owl/
http://news.nationalgeographic.com/news/2002/12/1217_021226_tvinterbreeding.html
https://www.savetheredwoods.org/
Share