Heartfelt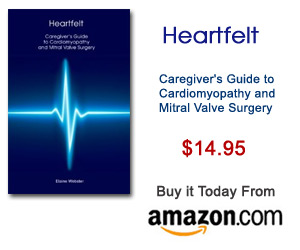 The past twenty years have seen major advances in open-heart surgery. What was once considered a death sentence is now often curable. This is especially true with valve-repair and replacement surgeries. As caregiver for a heart patient, you face unique challenges. You must be friend, confidant, patient advocate, spiritual advisor, and nurse to your patient, all the while trying to keep your own life together.
Heartfelt chronicles sixteen years of the author's life with her husband Blake as they struggle through his first major arrhythmia, to mitral-valve repair surgery, and onto recovery. Through Webster's personal insights and common-sense advice, you'll learn how to:
Take Care of Your Patient
 Find the right medical team
 Research hospitals
 Track down affordable health insurance
 Establish an exercise program
 Provide nursing care
 Weigh medical options
 Manage medications
 Cook heart-healthy cuisine and handle dietary restrictions
 Provide emotional support
 Oversee recovery after surgery
 Take Care of Yourself
 Keep a journal
 Enlist help
 Handle stress
 Exercise
 Deal with depression
 Maintain routines
 Make time for yourself
 Seek creative outlets
 Eat healthy
 Find a spiritual path.

 Click here for Heartfelt Caregiver's Guide Website