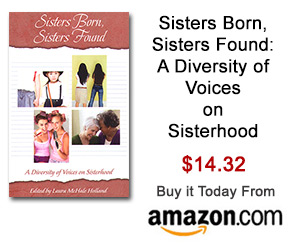 Sisters Born, Sisters Found: A Diversity of Voices on Sisterhood reveals the core of female hearts, divulges secrets, and captures poignant, compelling, complex relationships. This vibrant collection of work from across the globe isn't only about blood sisters or women who like each other. Sisters can bond over movie nights. Stuff snails down each other's throats. Steal each other's clothes—and lovers. Scrounge for food together, tell stories together, work magic together—even kill together. Seventy-five gifted writers explore all of this and more in the memoirs, short stories, essays and poems that form Sisters Born, Sisters Found.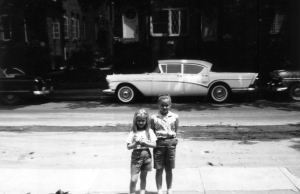 Asha
By Elaine Webster
Asha found me
perched atop a stoop—
two friendless children
one from Turkey
both in Queens.
Hot summertime streets spurred
trips to the schoolyard. Cool water
sprinkling from a pole brought us
barefoot giggles
soggy beach suits.
Hopscotch numbered boxes defined
our path. Spinning tops
Hula hoops jump ropes traded
for swings and monkey bars.
With unbridled giggles we braided
our pigtails tied them with bright
colored ribbons dazzling
against our worn dungarees
our ice cream stained shirts.
I fell in love with Asha
that summer couldn't let her go
yet she left.
A memory tastes of
blueberries, sour cream
sweet in Asha's kitchen
sour as my youth.