Jess's Tale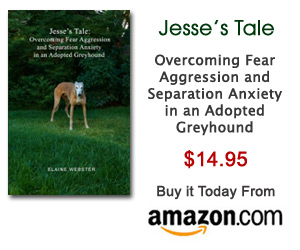 All adopted racing greyhounds find life as a household pet a radically new experience. If a dog has behavioral problems, the transition is even more challenging, both for the animal and the new family. This book offers insights and commonsense advice for those who have adopted, or are considering adopting, a fearful, shy, or aggressive dog.
The author's greyhound, Jesse, initially hid his behavioral aberrations. Soon it became apparent that Jesse suffered from Fear Aggressive tendencies and Separation Anxiety. He required special handling and training by someone willing and able to complete the rescue. Elaine Webster shows how she and her husband Blake helped Jesse become a loving addition to their home. This is their story, and it could be yours.

 Click here for Jesse's Tale website.